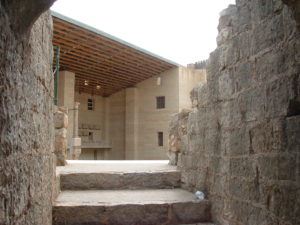 Join us:
Social Democracy and Regionalism at the Roman Theatre of Sagunt
By:
Manuel López Segura, a PhD candidate in Architecture and Urban Planning at Harvard Graduate School of Design (GSD). 
With the advent of democracy and the quasi-federalization of Spain during the 1980s, regions assumed unprecedented powers over heritage policy. In the Valencian Country, an area with a distinctive culture and language, nationalist claims tainted debates on preservation. These phenomena are well exemplified by the restoration project for the Roman theatre of Sagunt (ca. 50 AD), which the Valencian autonomous government commissioned in 1984. We will discuss that restoration in the light of the political tensions that surrounded the government's social-democratic agenda, which aimed at the reconstruction of an egalitarian public realm and of a long-repressed regional identity.
Wednesday, March 15, 2017 – 6:30 p.m.
At
Real Colegio Complutense
26 Trowbridge St, Cambridge, MA 02138
Refreshments follow